Been longing to eat here for some time now, I've actually cancelled two bookings to date. Before you gasp in horror, let me tell you I am not that important or well connected to have managed three decent bookings at Chiltern firehouse! I had merely managed to secure the lamest of reservation times, one being 5:30pm on a Wednesday and a 1:30 on a Saturday with only 1.5 hour seating. Didn't happen.
So I'm sure like many other fellow 'foodies' venturing to Chiltern Firehouse I couldn't give two vagina's about how many times Rita Ora has warmed up the booth leather or which A list stick of self importance has graced these seats either.I like everyone else just wants to know is it bloody worth it.
The fence that you enter the restaurant through (there's no obvious entrance- to clarify you don't actually walk through the fence there is a gap) is manned by two smooth looking dudes that I assume are the greeters however they look more like semi-rich guests. Lovely stuff.
As we manoeuvre our way through we are greeted by the host, she puts me in the mind of someone........who is it....yes!that's it! - the alien queen in Men in black!, ah ha just googled her ... Serleena!!although I must say the hosts cloak is actually more intimidating than the Alien queen. So now I'm thinking perhaps Chiltern Firehouse is run my some Illuminati cult of extra terrestrials and that's why all the A-lister's flock here! I've only gone and done it,I've solved the bloody mystery!YES ME!You lot have been pondering over this one for months, I just figured it out within 5 minutes of being here! ;)
Moving on.....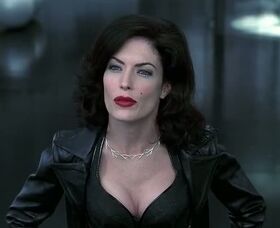 The host
Serleena proceeded to show us to what I would say is one of the worse tables in the restaurant ,we are situated under the kitchen (unable to see the chefs) and my friend opposite has a nice big pillar at his side obstructing any freedom to turn, well this is what you get when you're not part of the cult, why would little ol me get a booth. I sound bitter that's not attractive. Fuck the booth.
I get to see a menu at last! you may have noticed they don't have menu's online. I had to do a Google image of Chiltern Firehouse menus to get a peek, turned out to be a pointless exercise as the menu bar a few items was completely different to what I'd seen.
To start the 'snacks' we order THE Crab doughnuts and Cornbread fingers. I've heard a lot about these crab doughnuts. I love crab and I love doughnuts, sounds like a winner to me! They are just the right amount of sweet, fried but not greasy, soft tasty little bites with delicate lightly seasoned crab inside, however they are diddy, so for £6.00 I would suggest not bothering.The fried corn bread fingers are also very alike to a doughnut, they would have been more suited on the side of an ice cream, that said I love doughnuts so whatever, again £6.00 for the pleasure. That's £12.00 done already on unsubstantial nibbles, feels worth mentioning, if you're looking to avoid a high bill, this is where restaurants get you.
My starter of Sea Trout was served raw as a ceviche ,highly welcomed. The menu didn't actually specify how the dish would come cooked, or not in this case. I perhaps wouldn't have been so keen on a lack of description in my less adventurous days but now I think its quite clever. If you don't have a pre-conceived idea of how it will be you are more open to enjoy the chefs choice,surely?
The thick sliced chunks of bright orange Sea trout came marinading in what tasted like pink grapefruit and pineapple juice, Salmon roe was generously sprinkled over the raw fish - popping in my mouth with every bite adding a pleasantly fishy taste, thinly sliced pear and coriander complimented the whole dish perfectly. Best Ceviche I've ever tasted.
Sea trout starter
For main I had the Sea bream, which my dining partner informed me, is very similar to sea bass and may sometimes be used in restaurants as a replacement when no bass has come in, most people wouldn't know the difference without looking at the fish before its final hour, he wasn't wrong It tasted exactly the same to me, perhaps more fleshy than the sea bass I've had, but the taste well you'd have to be a pro. Pan fried in butter my crispy skinned piece of loveliness sat on a bed of cima ri rapa, perhaps some cabbage and I'm sure some grapefruit was in there, the bitter (cima di rapa) sour (grapefruit) sweet (shrimps) and buttery well butter - all combined resulted in an exceptionally pleasing dish.
My side dish of al dente green beans come in this dressing that, I wish I could explain to you better, its a creamy/yogurt taste with sprinkle of mild onion rings and I think sumac, really tasty. I love green beans and would love to try them like this at home. While I'm on the subject may I mention something I read today about Chiltern's food; a negative Trip advisor review .. I quote
"Main was un interesting over-herb-encrusted salmon and uncooked beans".
My appreciated uncooked green beans
The salmon well I can't comment, I didn't have the Salmon. But lets talk about the uncooked beans, yes they weren't boiled to death the classic English way, the way that successfully put myself and many other English folk
off green beans for decades, we are only now recovering thanks to the kind restoration of the beans dignity. With chefs giving us new ways of eating beans! If you're not big on trying new variations of food, may I suggest not leaving the house or maybe we should give Nuno a call see if he's got any spare time to pop round yours on a Sunday to get some bean cooking lessons?!
And so that's the beans dealt with.
Moving on to dessert, strawberry sundae, doesnt come in a sundae glass, shame I thought,but then if I'm expecting a sundae glass I'm getting just as bad as the beans lady.
It is (excuse my immature description) soooooooooooooo yummo. MMMMMMMMM The milk ice cream,( I love milk), the strawberry sauce, caramel and biscuit perfect amounts of everything, not to sweet, not at all sour just creamy and brilliant.
We finished up with Cocktails at the bar, I went off menu (I'm like to think I'm cool when I do that, I know a cocktail that's NOT on the menu and its not Sex on the beach! maturity right there) so now I'm classy and mature I like to order an Amaretto sour which I must say besides

Donnys

in

Sidcup

, version which was the most generous amaretto sour I've ever had - this one was the absolute ultimate in taste.Topped with foamy egg white and a twist of lemon - not that foam and rind will get me drunk, but still absolutely marvellous. He didn't take long either, its all well and good ordering a fancy cocktail but sometimes the wait is enough to make you wish you had a pint of Stella instead.
The bill came to £214.00 for two people, three courses , 'snacks' , bottle of wine, cocktails and service.
They charge a 15% service (most restaurants in London
charge 12.5%) so we didn't even leave a tip.
My theory is the
extra 2.5% goes towards the staffs uniform cleaning bills (there are loads of them) of course not forgetting S
heelnas cloak of doom .Or maybe
it goes towards the A listers free drinks fund.
Who knows.
To conclude:
Atmosphere: Bored rich people, american bloggers (reading bad reviews of chiltern outloud at the dinner table) smug business people and ladies who lunch. Collectively quite dull, but thats not all Chilterns fault.
I feel like I've heard moans a
bout all the wrong things.
The staff are not rude and I found all the
food to be really and truly quite perfect. The atmosphere not bad, not electrifying but all in all I had a good time, plus should I have had a booth and an 8pm booking maybe it would have been more so.
They may have stepped up their game since reading previous bad reviews, I can't really comment on peoples experiences, but the food- could it be that inconsistent that one day its perfect and the next its 'inedible'?! as one trip advisor review read.O
n the flip
side I can appreciate the wait for the reservation may not seem
worth it as such - you can get food just as good without waiting two months for it, so I'd suggest looking forward to it, but get it out of your head that you will not be sat on a the table next to Madonna laying eggs
while a flame throwing
chef flambees your pancakes. Its not THAT special.
DO NOT COME HERE IF:
You are not prepared to spend £100.00 per head
You are obsessed by the 'hype'
You are not that interested in the food. (obvious it would seem)
You have to travel miles to get here.
You like vegetables to be boiled to death.
COME HERE IF:
You have the time to work around the booking you've
managed
to secure
You are passionate about good food
You have a fair bit of spare dosh.
.Have fun xx
http://www.chilternfirehouse.com/